Cradle hub takes its name from the Cradle to Cradle philosophy that shapes human-made products based on nature's processes.
The concept is born to help newcomers entrepreneurs open their first businesses based on innovative, sustainable ideas.
It is a modular, itinerant pavilion, aimed to be used in the nice season, that will be collocated in different cities, changing location every six months.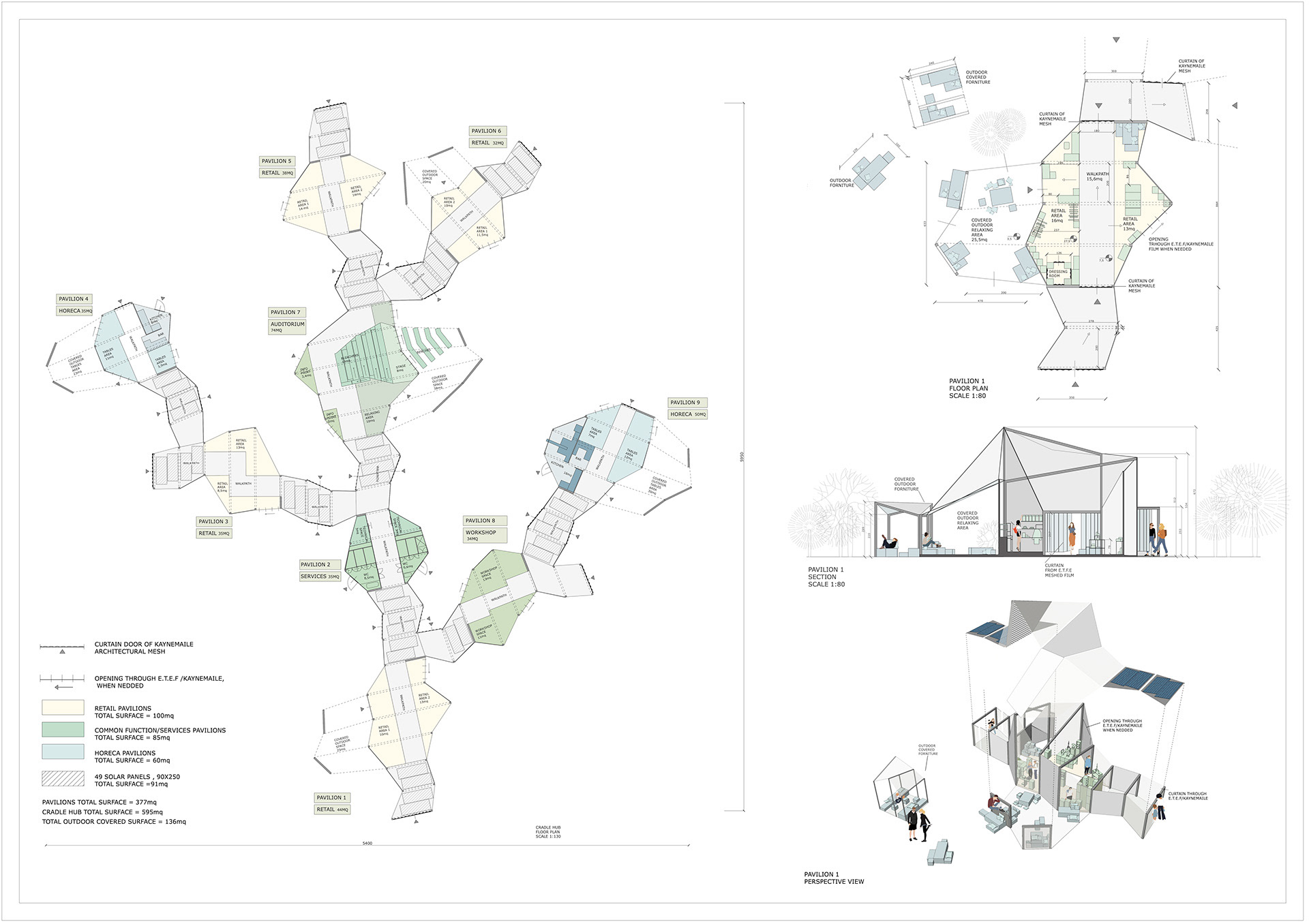 It will act as a gathering place for the hosting communities and as a training opportunity for the participating entrepreneurs based on trial and error.
Being one of them myself, the most challenging aspect of opening a business is the choice of a proper location and concept strategy, with the fear of signing a contract before knowing if it will be successful.
With Cradle Hub, the entrepreneurs will have the opportunity to rent a space for up to two years or leave it earlier without any consequence. They will test their formats in different markets, adjust and refine them, and get ready for opening independently.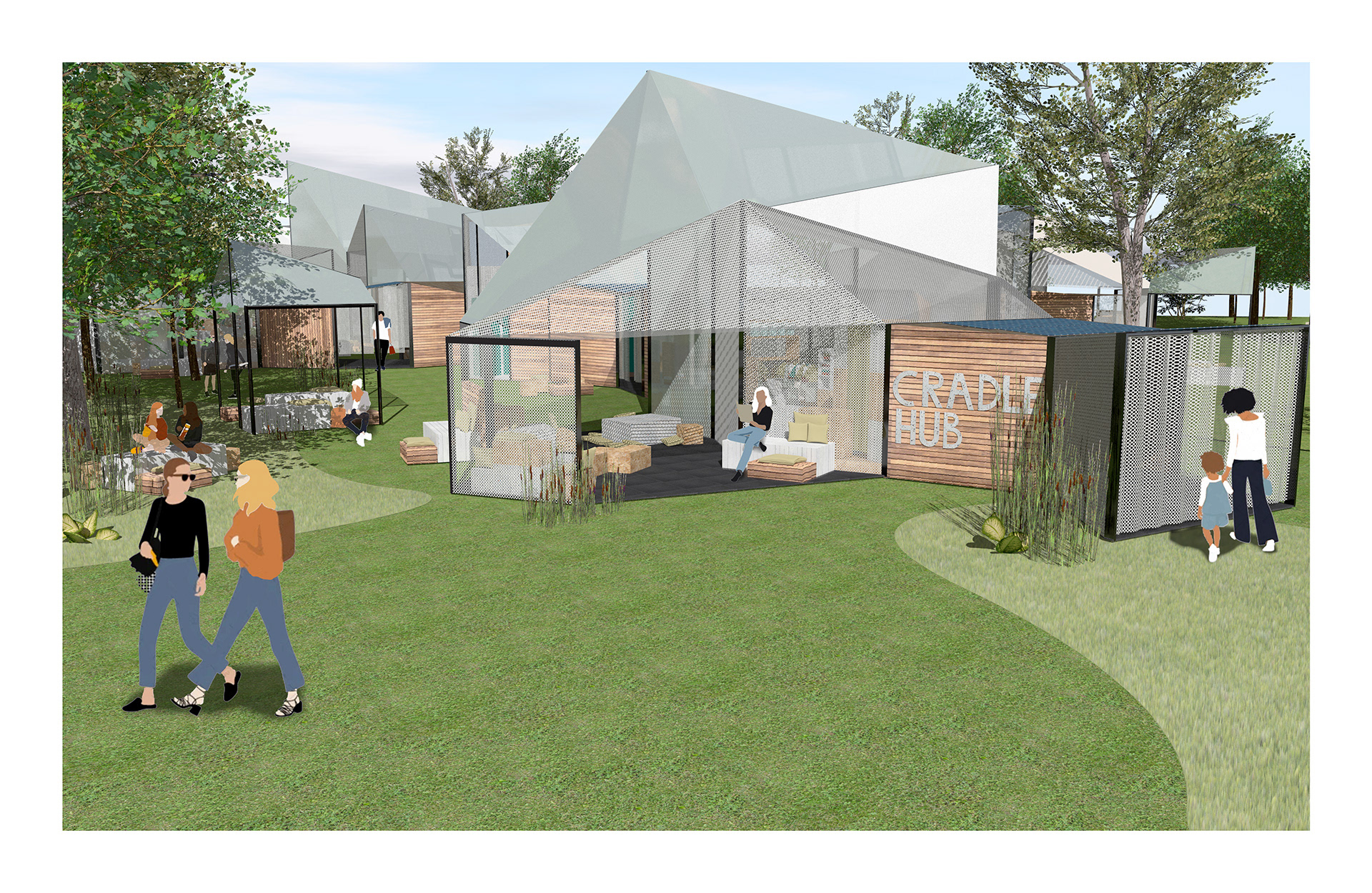 The design originates from the image of robust tree roots emerging from the ground. Indeed Cradle Hub will pop out in each city, starting from its central park and then emerging into more urban locations, spreading a more sustainable lifestyle.
By putting yourself in tiny ants' shoes, the Pavilion simulates a maze of roots through which visitors can discover the site. The feeling of being in a labyrinth creates a sense of wonder that can be expanded towards the products sold on-site.
Furthermore, the structure can be enjoyed by itself, thanks to the many interesting outdoor spots and relaxing areas.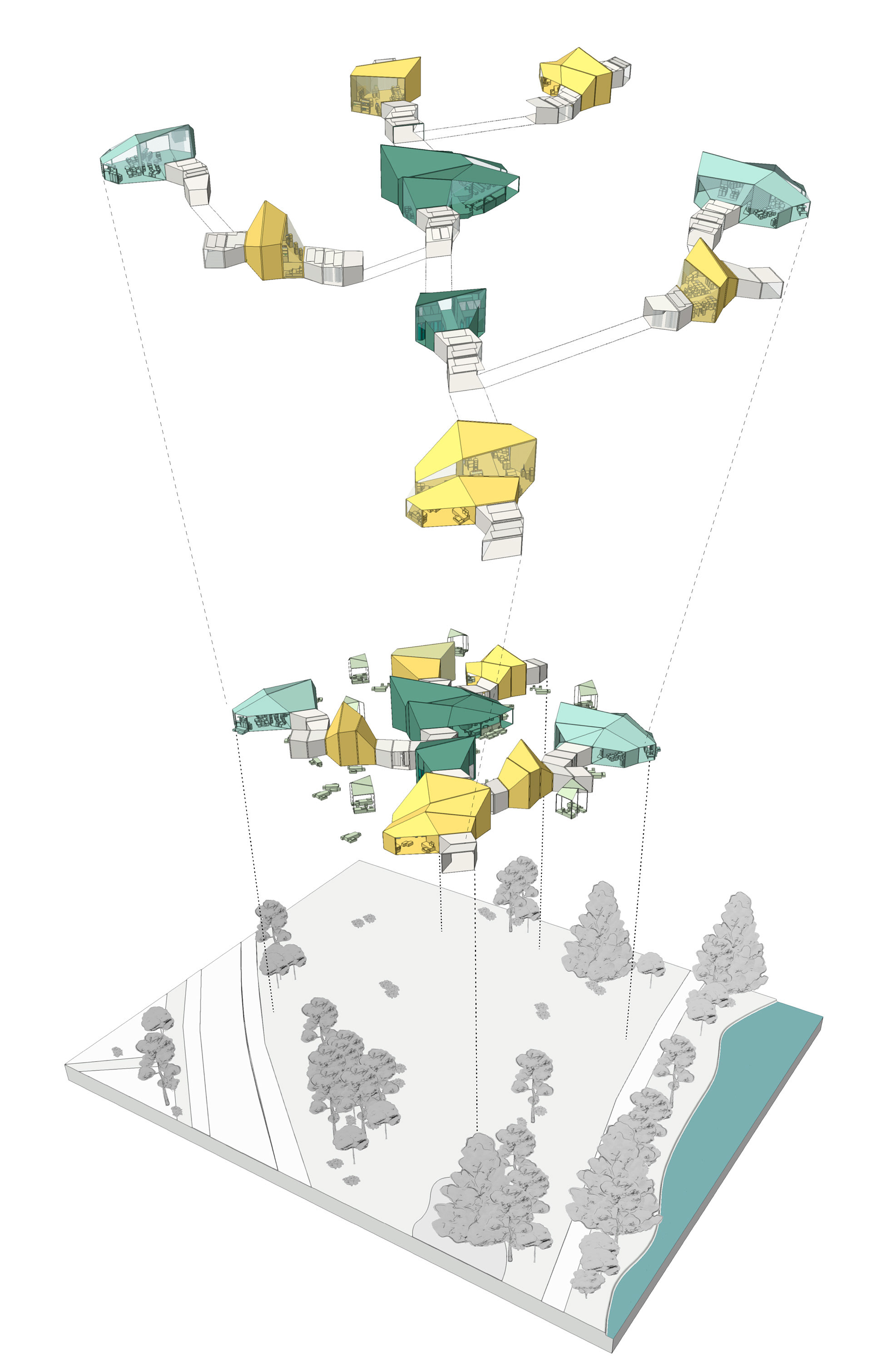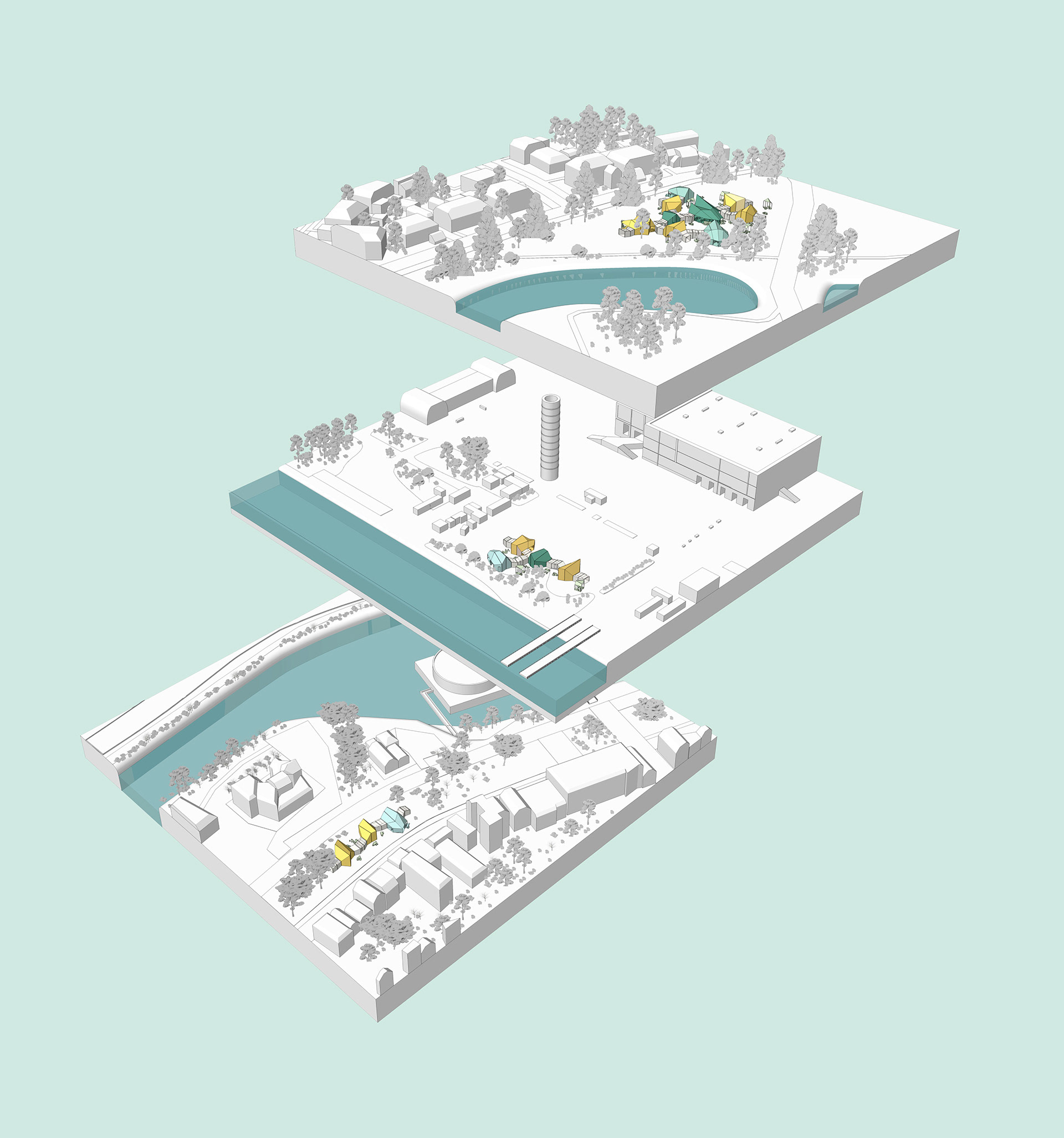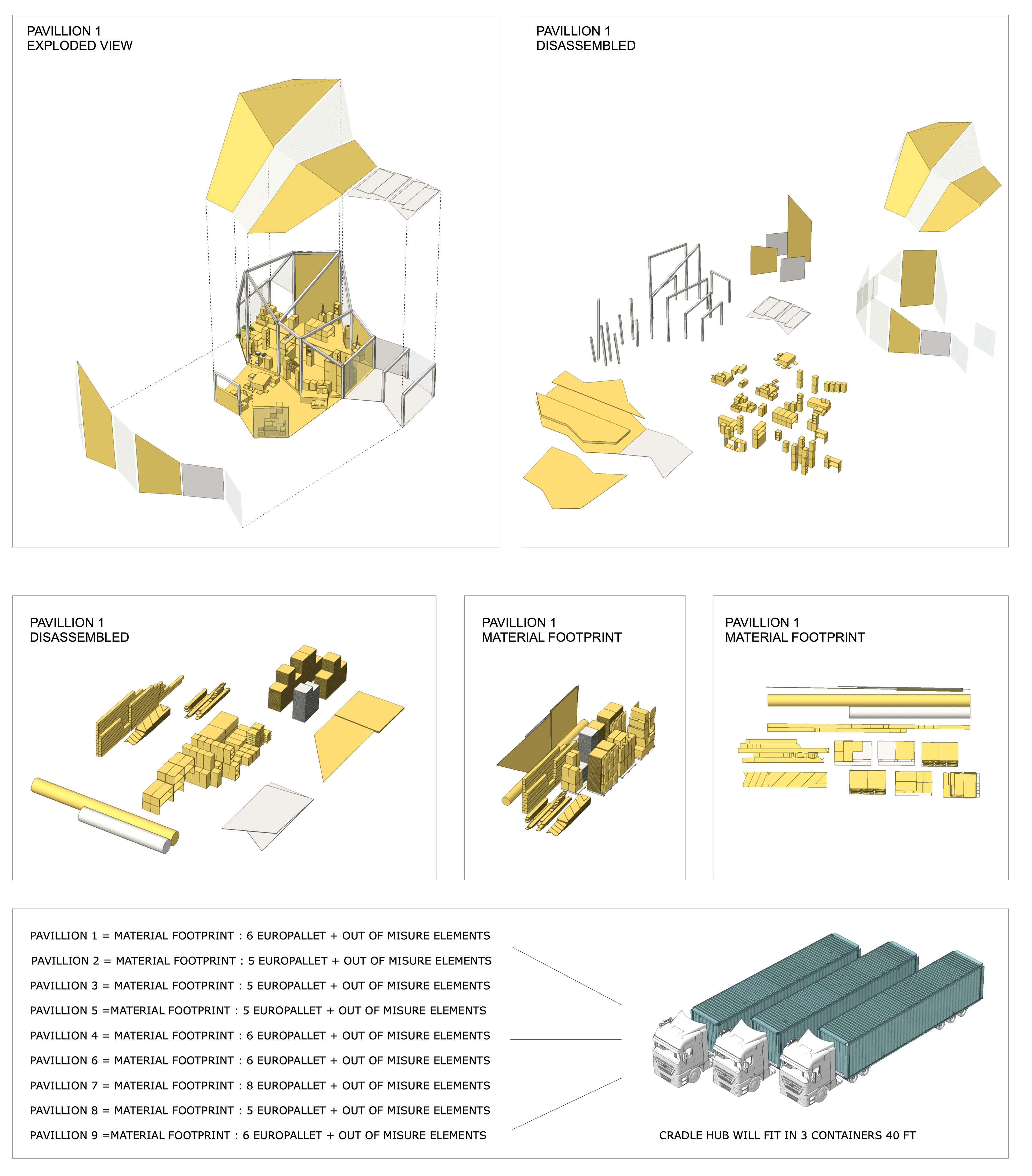 Here I took as an example the city of Groningen in The Netherlands, as you can see most of the pavilions will be collated in the central park, but then fewer modules can be arranged in different places.
Each Pavillion can be dismantled into 6/7 euro pallets, plus some extra materials; therefore 9 modules can easily be fitted into three 40 ft containers. Thanks to its design Cradle Hub is easy to move and build making it an attractive activity for the cities on the itinerary.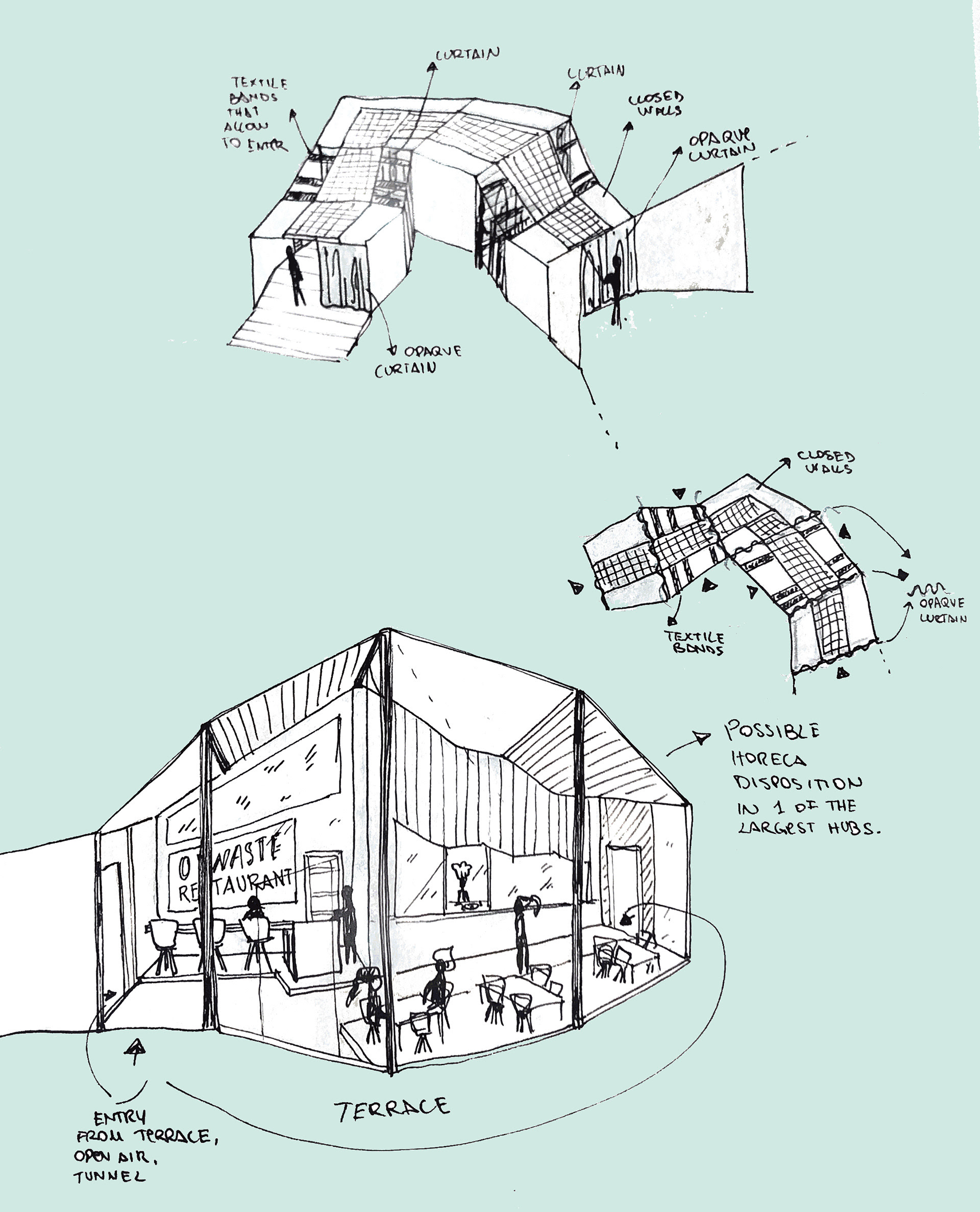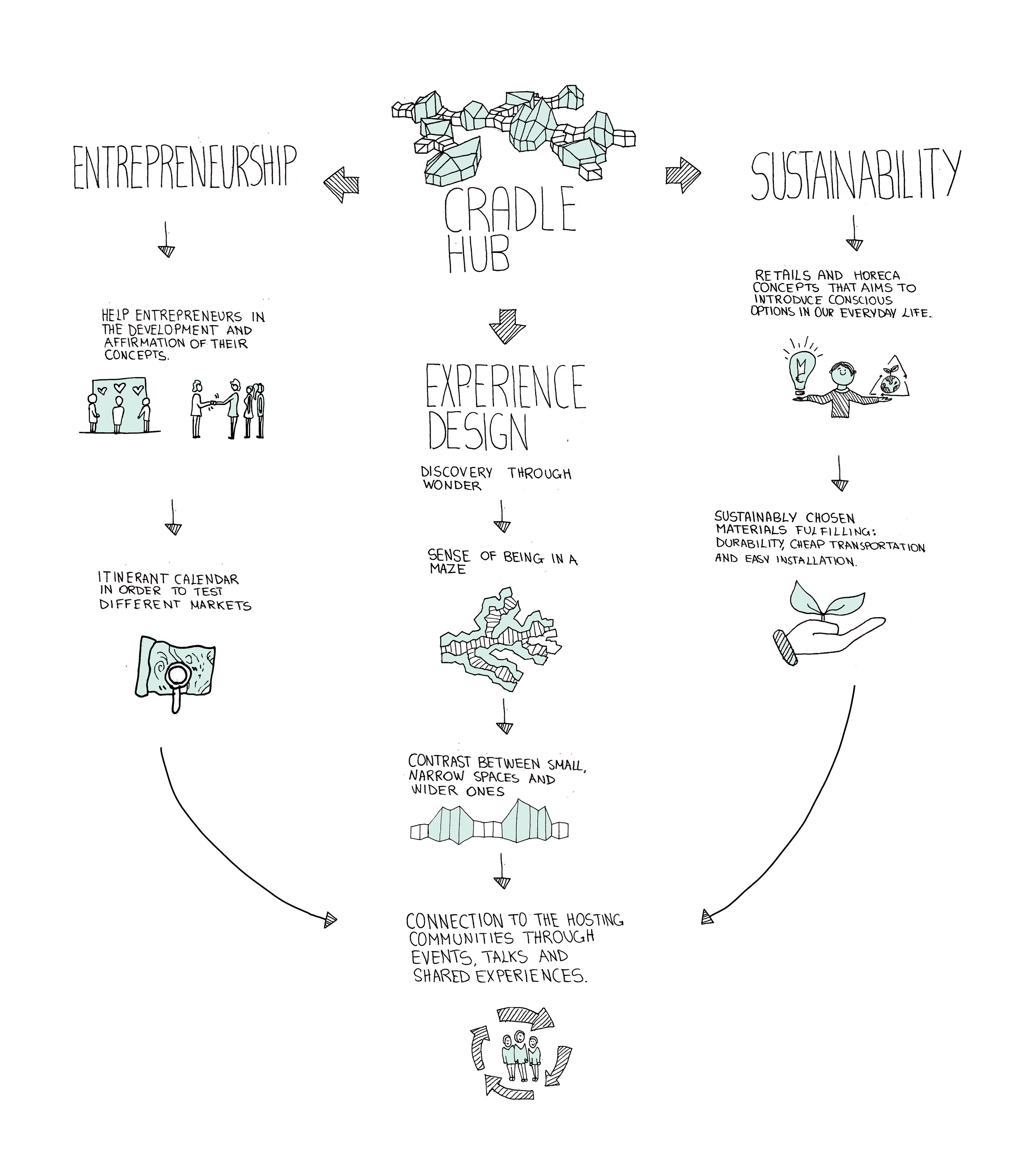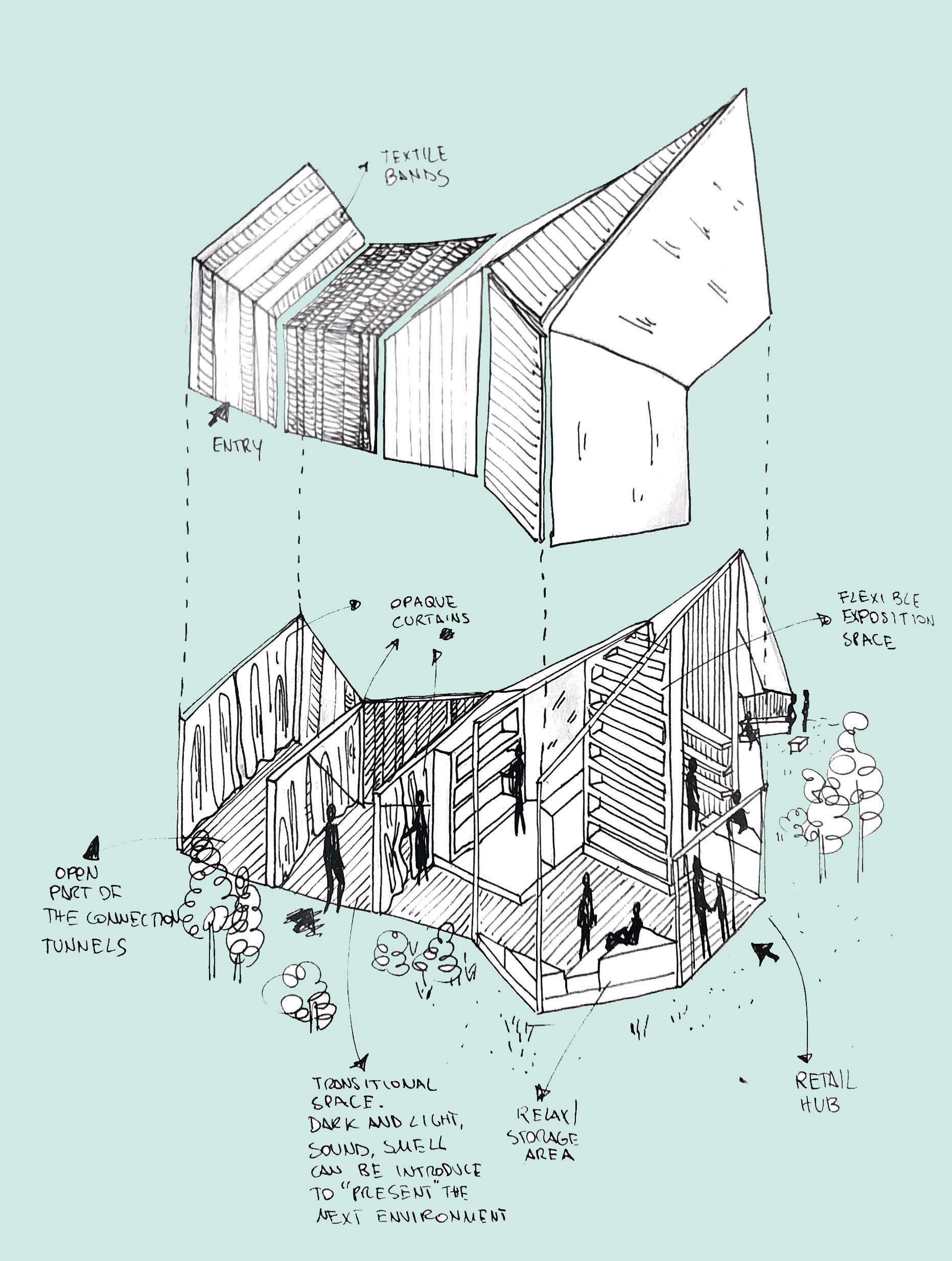 The materials used are sustainably chosen in order to guarantee durability, cheap transportation, and easy installation.
They are wood, recycled plastic, aluminum, E.T.E.F film, and plastic recycled mesh. They are left raw as much as possible with neutral colors recalling nature and, therefore, easy to be matched with different color palettes and styles.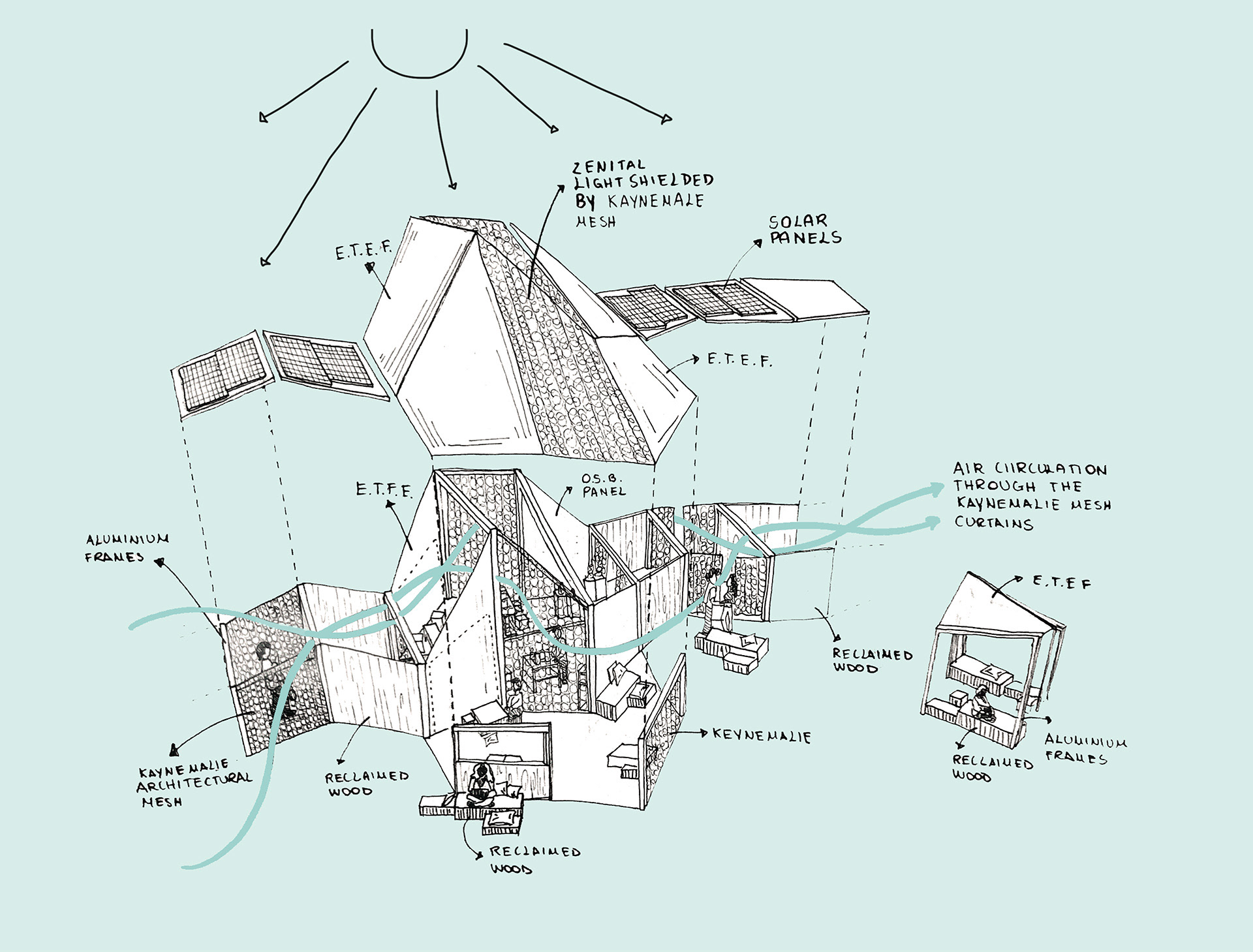 Of the eight pavilions, two aim to connect the network of entrepreneurs with the hosting communities. One is a workshop pavilion that can be rented out daily. One is the auditorium pavilion that will host events and talk about the sustainable options on the market
The hosting cities will benefit from it since it is a recalling event that will create expectations, calling a sustainable tourism.


All the pavilions come with a modular system of furniture, all of the same two materials, recycled plastic and wood, consisting of four main shapes. Every user can easily rearrange them, from shelves to tables to storage space.
I spent a lot of time researching the proper materials for Cradle Hub, looking for lightweight, sustainable and durable options. On my search, I discover many interesting companies with innovative solutions; check out https://www.kaynemaile.com/,  https://www.plasticiet.com/materials, https://www.structurflex.com/materials/etfe/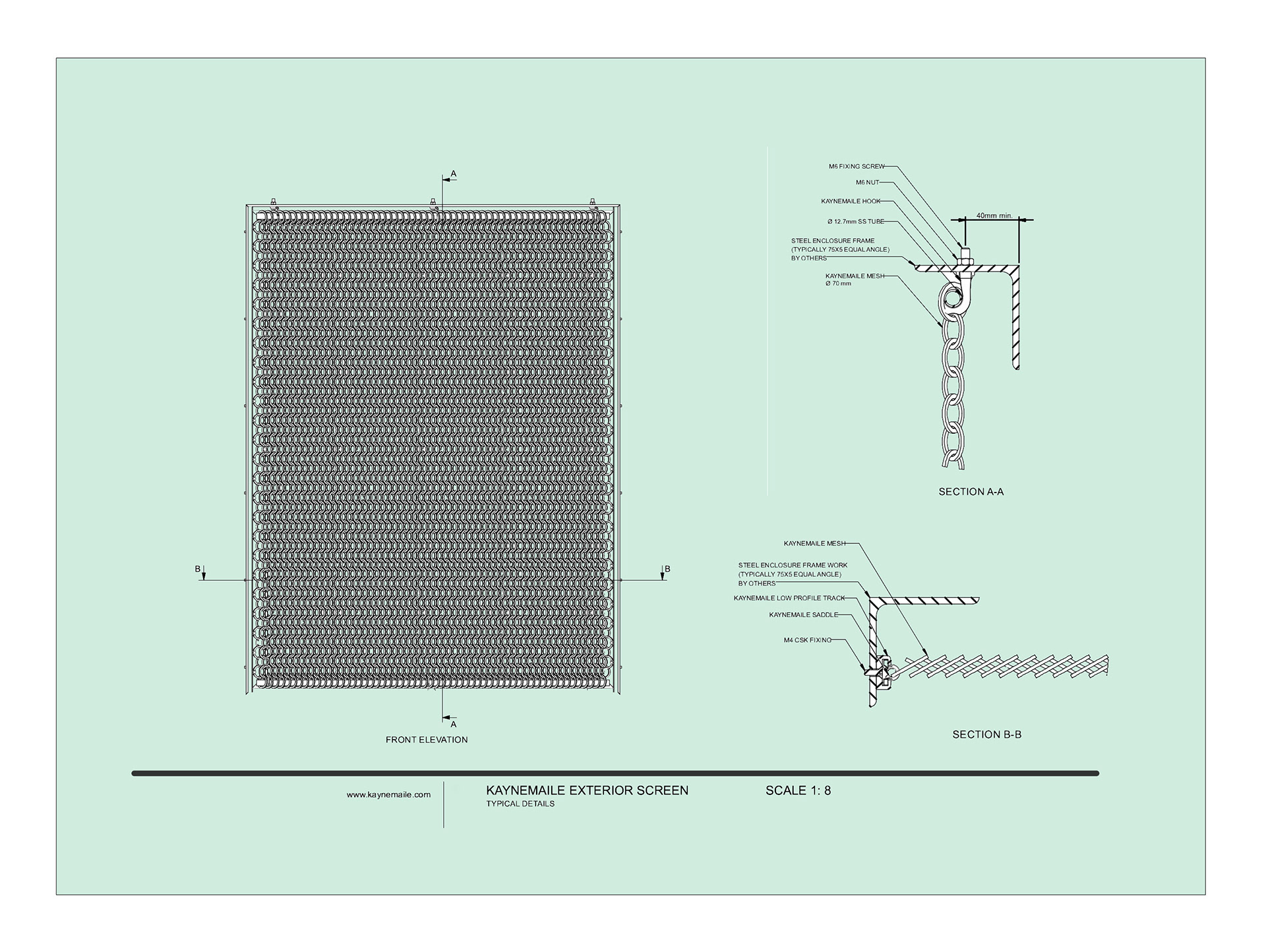 3D MODEL of one of the retail pavilions.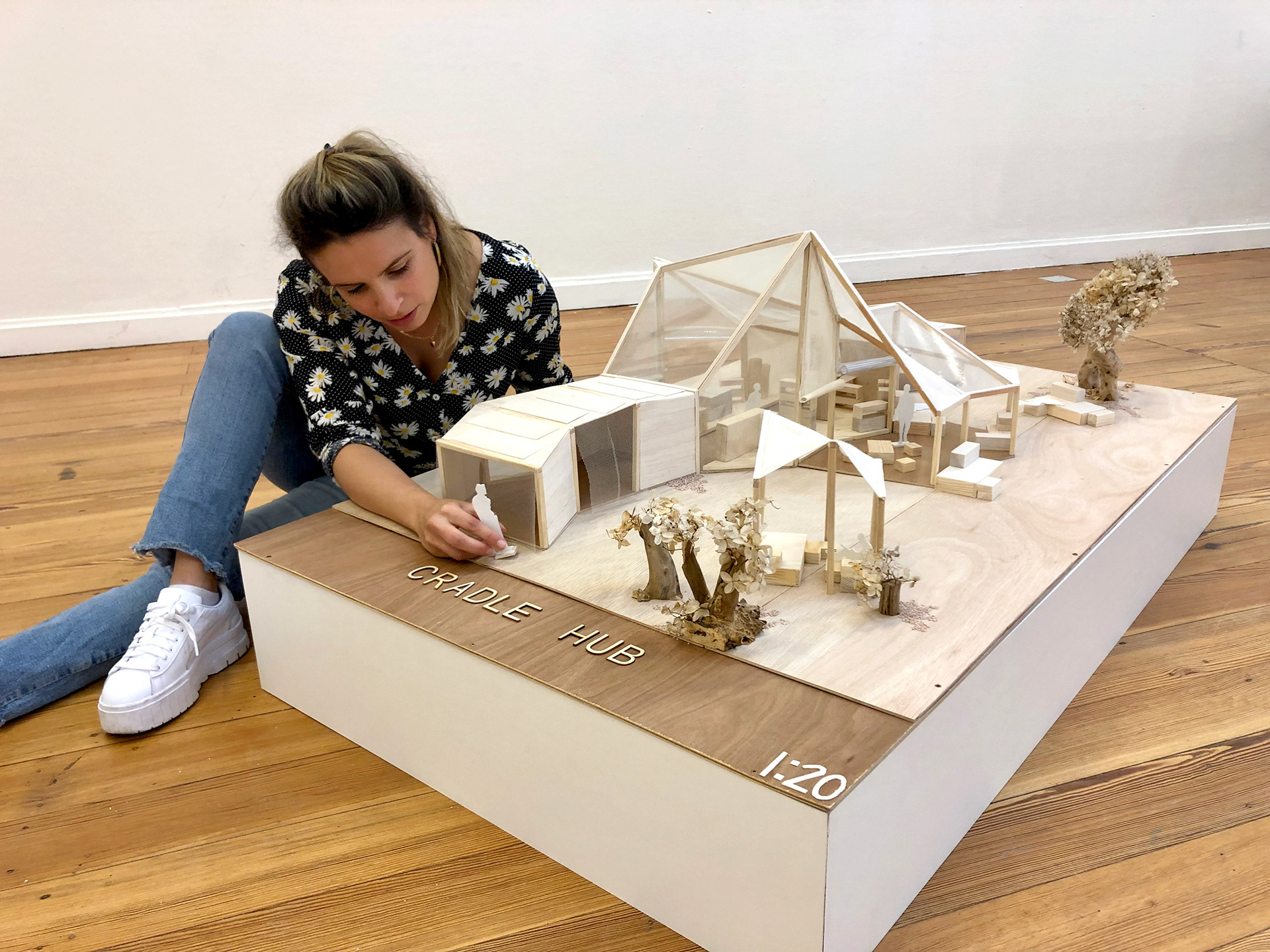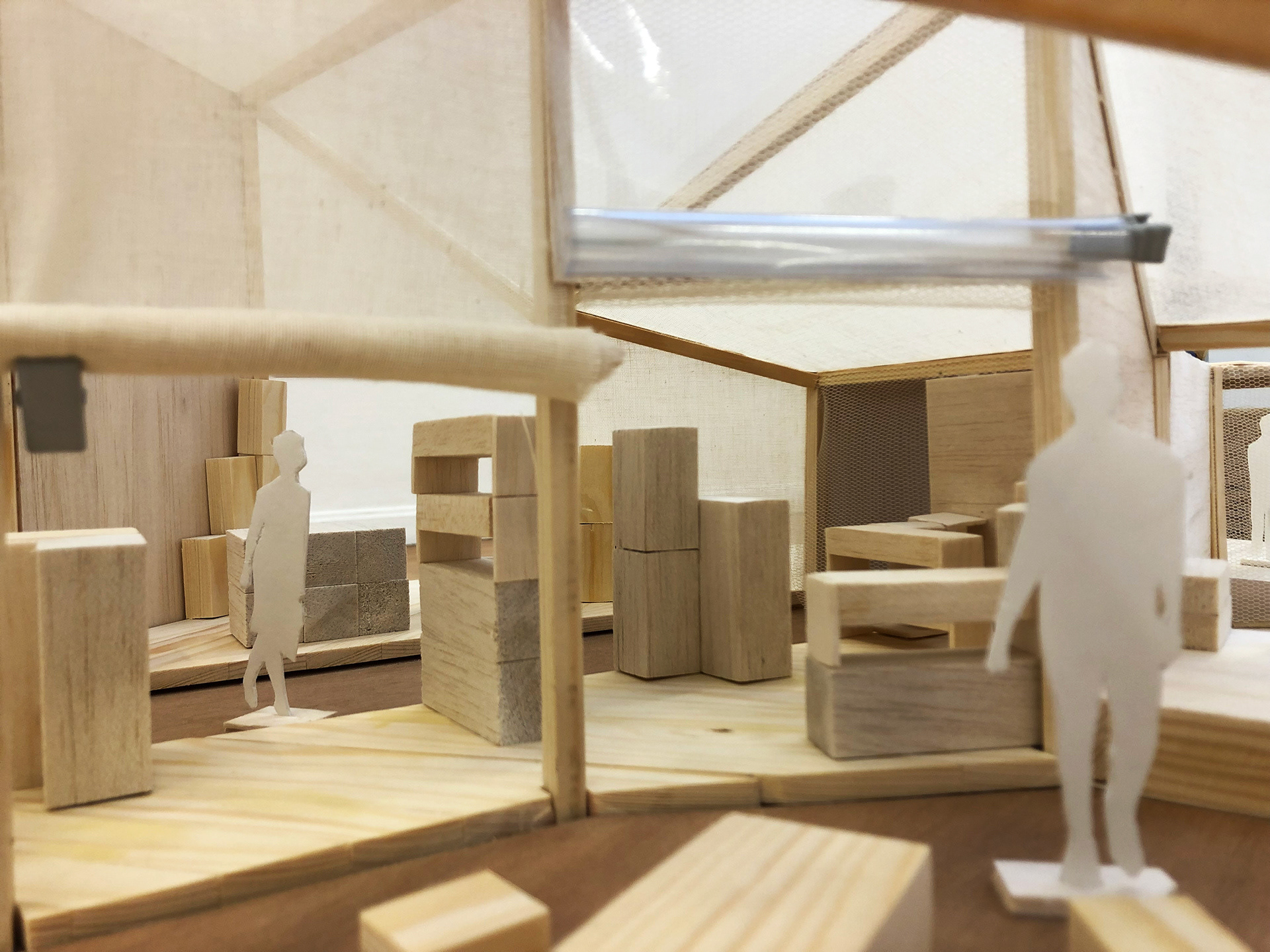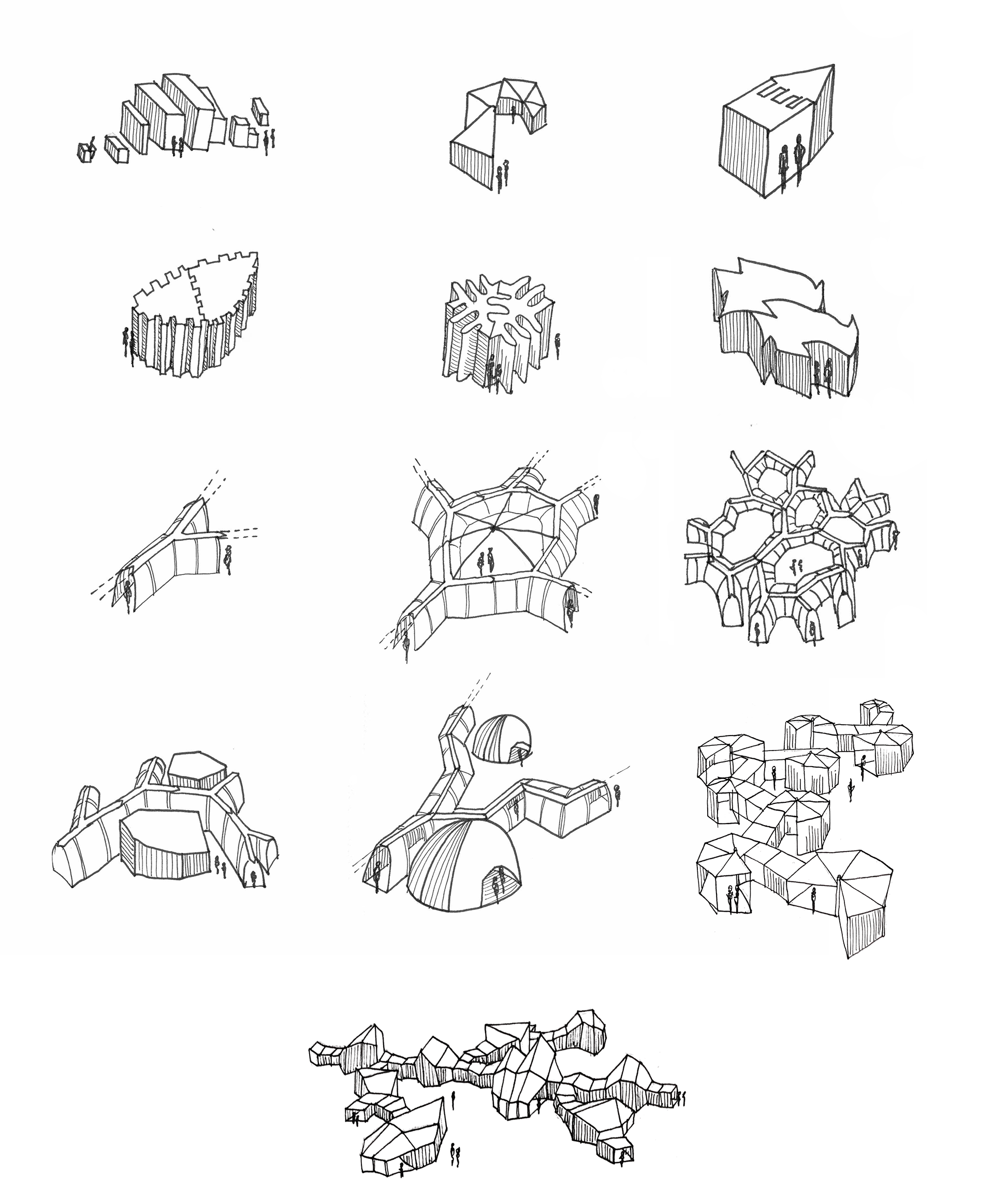 To conclude, in this drawing are represented all the different steps of my design towards the last version of Cradle Hub. I started with simple geometrical shapes derived from nature, tesselation, and golden section,  and then I went more complicated using the shape of the letter Y. 
I was never fully satisfied with the overall shape and therefore I kept sketching, after visiting the Expo in Dubai, and being inspired by all those amazing pavilions, I finally found the perfect shape!
It has been a circular process since the final designs are much more similar to the beginner ones.